MuTeFest '17
e-violin and electronics concert
e-violin                      Mieko Kanno
sound engineer                 Mikko Ingman
light designer            Jukka Kolimaa
Tuesday 21.11.2017 at 19.00
Black Box, Helsinki Music Centre
Event and

ticket

info
Programme
Sergio Castrillón                   GROANS OF A DRY AND EMPTY LAND
3 pieces (première) 8'
Dimitris Papageorgiou deti (première) 13'
Jukka Tiensuu             oddjob (1995) 6'
Josué Moreno             Passacaglia for Vanja (première) 15'
No intermission.
Josué Moreno's Passacaglia for Vanja has a subtitle: On the Building of Sonic Weather. The piece is a hommage to the composer Jovanka Trbojevic.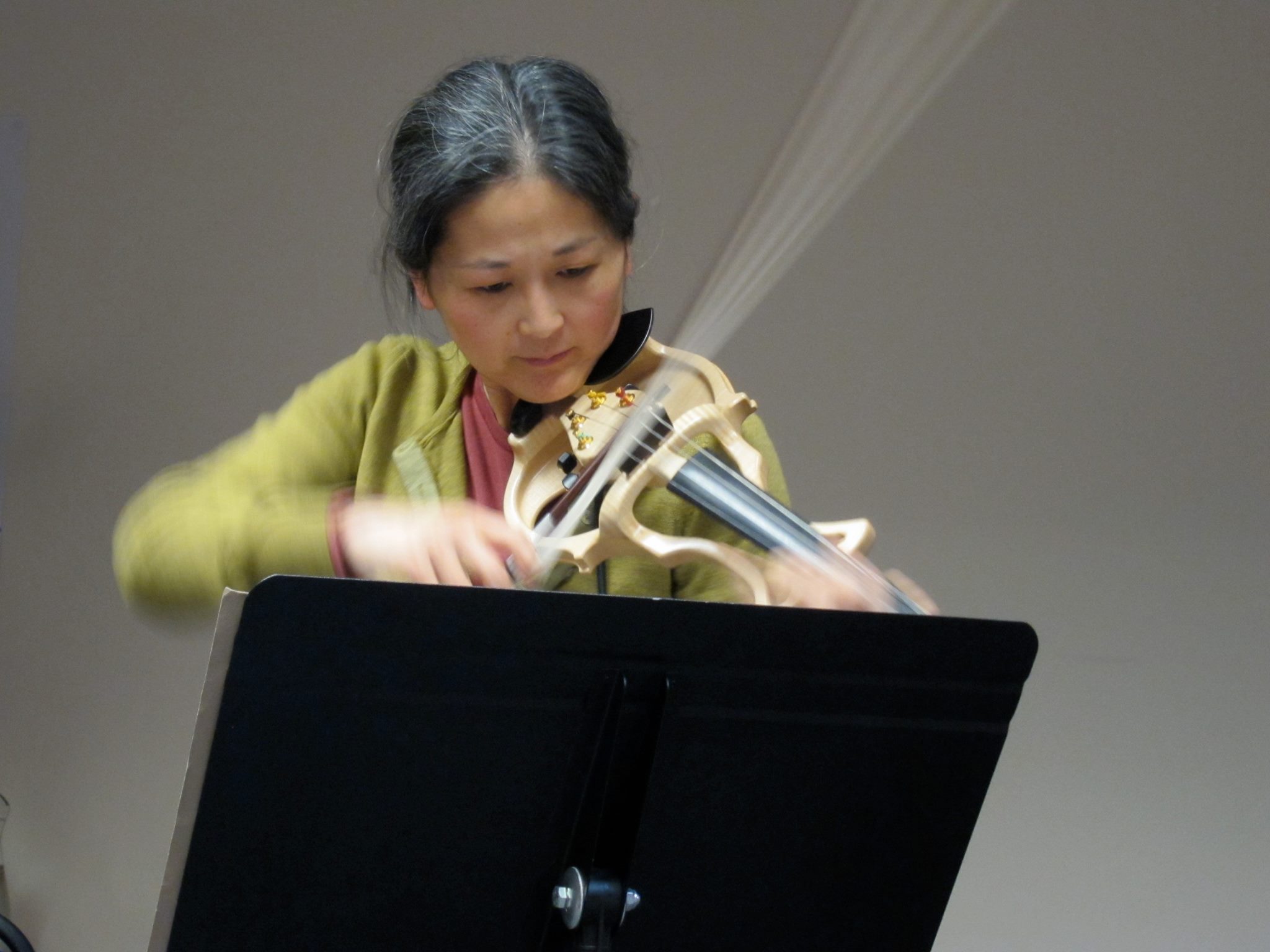 Programme notes by Mieko Kanno
Welcome to a concert of new music for electric violin! Three new works are premièred in this solo event. It is an outcome of my research project 'Modelling a Virtual Violin' with software 'Octet Violins' enriching the tonal palette of the electric violin together with electronics.
Octet Violins are existing instruments, invented and built by American luthier and mathematician Carleen Hutchins (1911-2009). Being unsatisfied with the existing set of string instruments (violin, viola, cello, and doublebass), she engineered a set of eight instruments (treble, soprano, mezzo, alto, tenor, baritone, small bass and contrabass) for the violin family with shared resonance characteristics across the whole range.
My project 'Modelling a Virtual Violin' was in collaboration with Alex Harker (Huddersfield University, UK) and Mike Newton (Edinburgh University, UK), funded by UK's AHRC. We developed the software that applies impulse responses taken from the set of Octet violins held in the Reid Museum, Edinburgh (Scotland) to an input signal such as that from an electric violin. The responses can be combined and modified to create a virtual (and imagined) body for the electric instrument.
Three youngish composers have created beautiful music for me and my electric violin. The programme includes an existing work by Jukka Tiensuu for violin and electronics, newly adapted by the composer for this project.
I think that the pieces speak for themselves, and therefore I don't have notes to provide here. The composers will all be present at the concert, and I would encourage everyone to talk with them and ask them questions as a community.
This project has a special place in my heart. It was my last project in Britain where I was for 28 years, and I arrived in Finland in summer 2016 with very little except this project in my bag. This concert marks the completion of a little bridge for me after a year and three months in Finland. I'm grateful for the friendship and support MuTe has given me in this transition, and this concert is dedicated to them.
FULL CONCERT: